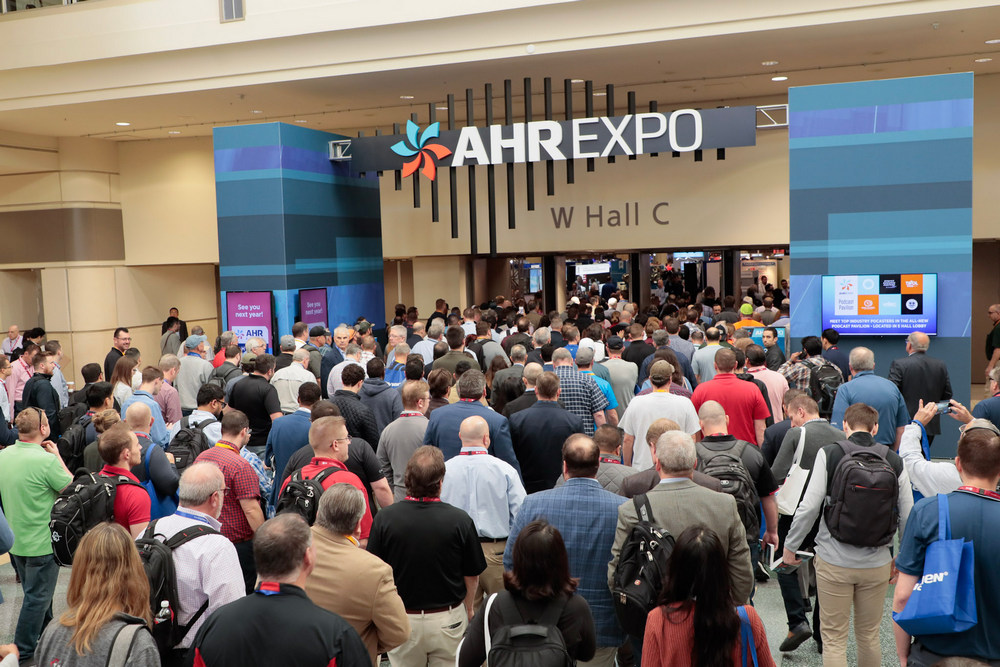 There's been a lot of uncertainty over the last almost two years, but one thing's for sure: Anticipation is high for the return of the AHR Expo. This year's expo will be held Jan. 31-Feb. 2 at the Las Vegas Convention Center in Nevada. Registration is free until Jan. 30, and can be completed at ahrexpo.com.
And after a forced hiatus in 2021, show officials recently released the full schedule for the Expo Education Program. The lineup features nearly 200 free seminars, new product and technology presentations, professional certifications and continuing education courses. The program will serve as an opportunity for attendees to catch up on what's been happening around the industry.
The Education Program discusses some of HVACR's biggest opportunities and challenges through a series of comprehensive, informative and industry-focused sessions hosted by leaders from every sector of the industry. Returning this year are trend discussions led by members of the AHR Expo Expert Council.
Panel discussions & free sessions
Added to the roster this year is a panel discussion featuring industry leadership that will dive into the state of the industry. Panelists include Moderator Bryan Orr, host of the HVAC School podcast; Mick Schwedler, president of ASHRAE; Stephen Yurek, president & CEO of AHRI; Talbot Gee, CEO of HARDI; Roberta MacGillivray, 2022 president of NAFA and Rob Falke, president of NCI. The panel is slated for 10 a.m. Tuesday, Feb. 1, in room N238/240.
The 2022 show will feature 65 free sessions led by industry experts put forth by leading organizations. Sessions will range from one to two hours and will aim to deliver solutions to some of the industry's most pressing challenges and exciting opportunities. Attendees are invited to attend general HVAC-related sessions, as well as those specific to professional practices areas.
Attendees can view pre-session videos of some of the 2022 Education Program highlights on the AHR Expo homepage education section.
Continuing education
AHR Expo attendees have the opportunity to participate in professional development courses through ASHRAE Learning Institute and short courses/professional development seminars approved for continuing education units. Attendees are required to register and pay tuition fees in advance of the show.
New product and technology theater presentations
Attendees are also encouraged to sit in on exhibitor presentations in the New Product & Technology Theater. More than 100 presentations lasting approximately 20 minutes each are planned across all three days of the show. These free seminars are meant to provide attendees with brief overviews of new product announcements and technologies that can be found in exhibitor booths on the show floor. No fee or registration is required.
Celebrating innovation
This year, three 2022 Innovation Award winners will present, including:
Carrier (presentation): "Make the Invisible Visible with the Abound Cloud Platform"
Antrum (presentation): "How Centralized IAQ Sensing Leads to Measurably Healthier, Efficient Buildings"
Danfoss (presentation): "Compressor innovation from Danfoss Turbocor: Low GWP R1233zd w/Patented Hybrid Compression Design"
Digital tools available for show planning
Complete AHR Expo 2022 info can be viewed at ahrexpo.com. The MyShowPlanner tool is downloadable via the website to assist attendees in building personalized show agendas. Attendees can also engage Breezy, the new A.I. Chatbot assistant on the show's website.
"We are ready to rock and host a stellar show in Vegas," said Show Manager Mark Stevens. "We've been planning for this moment for so long and are so encouraged by the enthusiasm from exhibitors, attendees and all those who make this show a success each year. We promise to bring an event like never before and it's only going to get better as this industry continues to grow through innovation. We can't wait to see what you'll discover at AHR Expo."