By Benjamin VanderSluis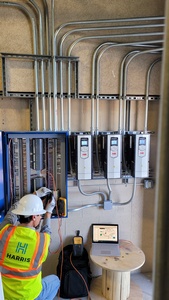 The functionality and sustainability of the systems that heat and cool buildings directly impacts how successfully a facility performs. Thanks to improved technology, the manner in which today's buildings are monitored and maintained has improved. However, keeping up with those improvements is another story.
If not familiar with the role data now plays in building automation and maintenance, you are not alone. By learning some of the basics, you will see how using the right tools and analytics can improve equipment performance, reduce energy costs and increase occupancy comfort – information you'll likely want to share with building and facility owners.
For starters, it's important to know that with some minor enhancements, it's possible to utilize the existing building automation system to not only run a building, but gain real insight into how it's performing. A typical building already generates millions of data points each and every day. This data offers incredibly useful information that can help you understand a building better.
With facility analytics, data can now be collected from sensors on a building's existing equipment systems to better diagnose malfunctions and faults and find potential opportunities for improvements, including energy savings.
Here's how it works: Light hardware or software is installed to facilitate communication between an existing building automation system and offsite cloud servers. Many BAS manufacturers now build their products on open protocols and standards to allow owners this kind of flexibility. Data from the building is trended and transmitted to the cloud where it is run against an ever-expanding set of algorithms to find mechanical failures, programming problems or energy-saving opportunities.
By applying facility analytics, it's possible to see what's happening throughout a building, 24-hours-a day, seven days a week, without additional manpower. A set of rules can then determine how well the equipment is performing. If certain patterns are known to lead to a component failure, that trend can be identified early and action can be taken to prevent a more costly fix down the road.
With sophisticated programs, tracking reports are used that allow a customer to see first-hand what's happening in their facility. If a centralized set of analytics is used, rules can be constantly added and enhanced, and capabilities perpetually grow, which means ever-deeper insights can be delivered to customers.
With advanced programs, the results of the diagnostics are summarized into a simple set of easily interpretable scores for the building and its equipment so that long-term progress or degradation of an entire building can be easily visualized and understood by key stakeholders. Meanwhile, individual faults and opportunities, interpreted by experts, are shared with building owners alongside potential remedies.
When the results are deciphered and applied correctly, these tools allow a deeper understanding of a building's operation and how to maximize performance. Working with facility data specialists, a skilled service technician can become an owner's trusted partner who can deliver a higher quality of service, save the customer money and hassles and meet the ever-changing needs of the business and building.
A proper team ensures raw data becomes useful information that can help to develop a better operational plan for a building. It's about doing the things that each unique building requires to get to peak performance – not more, not less. Knowing where to look, and armed with more specific fault information, a technician can arrive onsite ready to go directly to a problem area and fix it. This allows more time to address or search out other potential – and perhaps less obvious – opportunities for improvement.
Buildings don't break down all at once. Components fail one or two at a time over a long period. Performance degrades because building operators and owners often don't notice the many small problems that accumulate and bring down building performance. A long-term facility partner with a total view of the building, who can fix a few additional problems each visit, turns the tide in favor of a more performant, more comfortable building.
By incorporating data into HVAC maintenance operations, you'll be understanding the building better in no time and helping to improve performance, energy and occupancy comfort.
Benjamin VanderSluis, Ph.D., is director of data driven solutions at Harris.