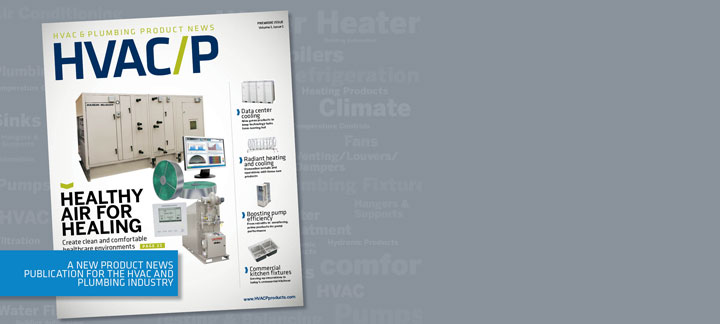 Why the need for HVAC/P?
With the 2012 HVAC market already at $13.1 billion, the demand in the U.S. for HVAC equipment is projected to increase 5.1 percent annually through 20151, the fastest growth rate in the global market. Currently at $7.7 billion, the U.S. plumbing product market is expected to rise 7.1 percent annually through 2015*. The growing demand for more efficient and sustainable products will also continue to fuel both HVAC and plumbing.Yet, even with the strength of these markets, there is no dedicated product news for HVAC or plumbing products.HVAC/P brings together these two burgeoning markets and presents product information to the HVAC and plumbing professional, keeping them up-to-date on the latest product news and information on a continuing basis. HVAC/P features product news, short articles, news bites and association news related to all product areas of HVAC and plumbing.
HVAC/P will be out in January and will be distributed at the AHR Expo in Dallas.
*Sources: The Freedonia Group 11/11 and Reportlinker.com market report – 7/04/12