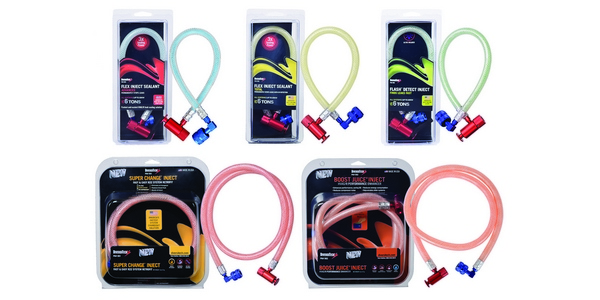 ATLANTA, Ga. – DiversiTech Corp. is introducing a new line up of technologically advanced injectable solution products for HVAC contractors. An expansion of DiversiTech's leak sealant solutions, many of the new products feature the same innovative flex-hose injectable platform used in the company's proven Flex Inject Sealant Advanced product and Flex Inject Sealant Total with UV dye product. The new products span the vital areas of leak detection, refrigerant system change-out and system performance enhancement.  Designed for easy and quick installation, the highly effective products save contractors and homeowners valuable time and money.
Finding leaks faster is made easier with DiversiTech's Flash Detect Inject, an integrated UV dye that requires no UV glasses and is ideally suited for use in locations where leaks are not easily found with conventional methods. Using a UV light such as DiversiTech's 89DC, the highly soluble fluid exposes the leak(s) in a green color. Contractors can then use either DiversiTech's Super Seal Sealant Advanced (can version) or Flex Inject Sealant Advanced (flexible hose version) to fix the leak. For use in systems up to 6 tons, the dye injects through a patented flex hose and can be installed without the use of tools or manifold gauges. Flash Detect is polymer free and works with all compressors, heat pumps, condensers, recovery units and other system components. It installs into a fully charged system with no recovery or pump down and works with all refrigerants and all oils. Advanced testing and field use shows it prevents blockages or plug ups of manifold gauges, metering devices, thermostatic expansion valves (TXVs), pistons and cap tubes.
Homeowners have a new way to save money through Boost Juice Inject and Boost Juice in can. Both products are an HVAC/R system performance improvement additive that lower energy costs by reducing the amperage draw up to 22 percent on a system when running. Boost Juice lubricates the unit's components, removing moisture and oxygen and dissolving particle debris to reduce drag and friction for the refrigerant and oil. No tools or manifold gauges are required for installation and improvements can be realized within 24 to 72 hours, depending on the system's age. Compatible with all oils and refrigerants, added benefits include reduced compressor noise, moisture elimination and acid formation prevention to protect against system corrosion.
Converting a system from non-POE based oils and old refrigerants to newer HFC refrigerants is fast and easy with the Super Change family of products:  Super Change in a can and the new Super Change Inject. Both products come with an injectable flex-hose with the chemical material included. Contractors using Super Change can save up to one hour in flushing, three hours in oil removal and other valuable time related to disconnecting linesets or replacing gaskets and O-rings. With no tools required and no need to flush the system (excluding compressor burnouts), contractors can quickly convert old refrigerants such as R22 to newer HFC refrigerants including POE-based R407C and R410A for systems up to 6 tons.
For more info, visit www.diversitech.com.