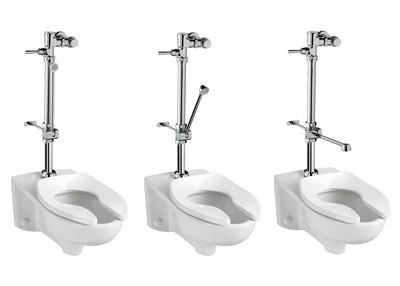 PISCATAWAY, N.J. – A new offering of bedpan washer diverters for flush valves from American Standard makes it easy to specify a complete package of high-performance, low-maintenance products.
The bedpan washer works by diverting a portion of the flush valve's water volume to the spray head.  It can effectively operate with as little as 1.28 gallons of water per flush, when combined with a high efficiency American Standard piston-operated flush valve.
Well-engineered construction elements are incorporated into the design of the diverter valves, offering clean and convenient operation. For example, water will not flow from the spray outlet when the arm is upright, effectively preventing unpleasant messes. The flow of water begins when the arm is rotated approximately 60 degrees from vertical. For additional convenience, a special counter-balanced pivot assembly ensures the spray arm will stay in position when the user lets go, preventing the need to constantly readjust it.
Specifiers can also recommend toilet bowls and sinks from American Standard featuring the permanent EverClean antimicrobial surface that inhibits the growth of stain and odor-causing bacteria, mold and mildew on the surface. Fixtures that include EverClean are ideal for institutional, healthcare and educational applications, helping the units to stay cleaner longer, even after years of use.
Designed for installation on 1 ½-inch top spud flushometer bowls, the diverter is available with either a straight flush tube or an offset model that can accommodate grab bars installed above the toilet.
These diverter valves are sold individually or as part of a manual flush valve kit. The valves offer durable brass construction and are covered by a five-year limited warranty.
For more information on the new offering of bedpan washers or other American Standard products, visit www.americanstandard.com or call 800- 442-1902.