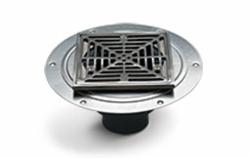 PECULIAR, Mo. — Kansas City-based rough plumbing manufacturer, Sioux Chief, was chosen by South Dakota-based contractor, Midwestern Mechanical and its client, South Dakota State University, to provide the new Sioux Chief Finish Line Halo Drain for SDSU's latest residence hall construction project in Brookings, S.D.
"Midwestern Mechanical used 450 of the Halo Drains on an 11-inch core plank floor with a 3-inch concrete topping," said Brigham Wachal, director of mechanical construction with Midwestern Mechanical. "The Halo gave us the ability to core drill a smaller hole, drop in and fasten, then adjust the strainer with an extension for the 3-inch topping, which saved us field hours where a traditional iron body floor drain would not."
The Halo Drain is considered a breakthrough product for time and labor savings because the product design allows installers to spend far less time on the initial installation. The adjustable floor drain is made with a stainless steel deck flange and clamping collar, making it easy to secure the membrane and ensure a waterproof system. It is available in either plastic body or ductile iron. Halo Drain is typically used in apartment, dorm and loft remodels, second floor utility rooms, laundry rooms, cored openings, corrugated deck installations and other commercial applications.
The drain head adjusts up to three quarters of an inch above flush to accommodate most flooring types. At the tile setting portion of the project, strainers can be adjusted to the perfect height, making it easy for tile setters. An additional one inch of adjustment can be accomplished using the Finish Line option.
"Blocking up a standard drain with wood or strut under the floor is difficult and time consuming, often requiring two people," said Sioux Chief Regional Sales Manager Michael Foster. "Also, standard drains often require a more costly double core in concrete slabs."
"Halo Drain was designed to install easily from the top side of the floor by cutting or coring a single six-inch hole." Foster said.
Click here for more information on Halo Drain.