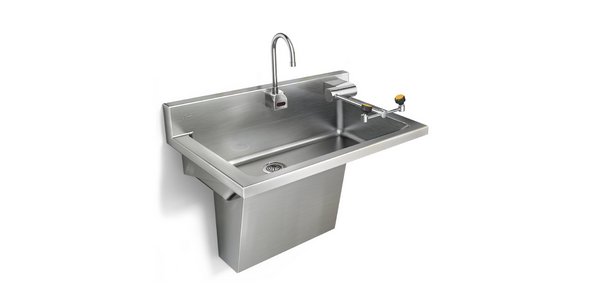 Just Manufacturing has produced a new wall-mount hand-washing sink with AutoFlow 100 degree swing-down eyewash for in-hospital pharmacies, inpatient treatment centers, VA facilities and other institutional applications. This hands-free multi-use unit is ADA compliant and has been developed to help manage the risks of hazardous materials and waste in accordance with the USP 797 and USP 800 standards, which require that a sink for hand-washing be readily available, along with an eyewash station, in a positive anteroom.
The wall-mounted AutoFlow eyewash swivels up and out of the way when not in use. When needed, the spray heads swing down 100 degrees from storage to an operational position, activating the 1.6 gpm flow of water. The complete hygienic package includes a wall-mounted JPH Series sink, sensor faucet, swivel AutoFlow eyewash unit, dual thermostatic mixing valves and drain system. It also features an offset drain location to reduce the potential for the aerosolization of pathogens.
The JPH Series sink is completely factory pre-piped and engineered for problem-free onsite installation and hookup. It's made from 16 gauge type 304 stainless steel and available in two sizes: 22 inches by 24 inches (JPH-ADA 2224-CT) and 22 inches by 30 inches (JPH-ADA 2230-CT).
For more info, visit www.justmfg.com.