Archive
HVAC
Product News
New Commercial 7.5-10 Ton Copeland Scroll Variable-Speed Compressor and Drive Delivers Breakthrough Cooling, Heating Efficiency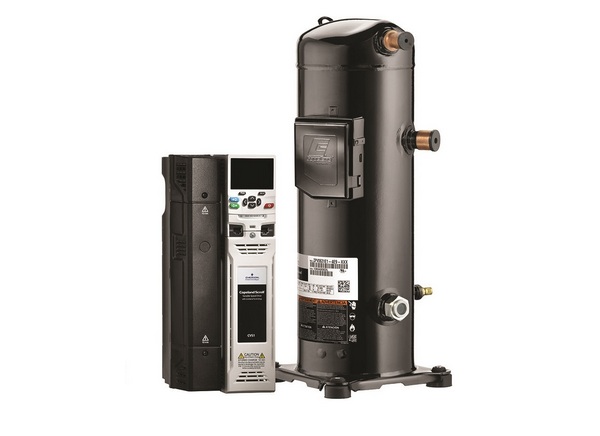 ST. LOUIS, Mo. — Emerson Climate Technologies, Inc. has expanded its Copeland Scroll variable speed product offering with the launch of a new commercial compressor and motor control drive. This new variable-speed compressor and drive allow system manufacturers and building owners to achieve superior performance through expansive speed range that delivers enhanced light load efficiency and dehumidification.
"Our Copeland Scroll variable-speed compressor and drive delivers one of the highest part load efficiency levels in its class, enabling significant energy savings and standards compliance," said Bart Powelson, director of commercial marketing at Emerson Climate Technologies Air Conditioning Business. "Whether designing for a roof-top unit in the United States or an air-cooled chiller in Europe or Asia, our latest variable-speed compressor technology offers efficiency, precise control and the protection offered by CoreSense technology."
The Copeland Scroll variable speed compressor design enables system manufacturers, building owners and contractors to experience a new level of control thanks to enhancements that support precise temperature and humidity management across a wide range of conditions. Scroll oil injection delivers excellent low-speed performance and new design enhancements reduce sound during reversible chiller transition and defrost.  In addition, an expanded operating envelope provides the greatest flexibility in design and desired condition with low turndown RPM for less cycling, better dehumidification and light-load efficiency.
The new variable-speed motor control drive offers a number of impressive features. Specifically, the drive is optimized for the compressor, including customized parameter settings for quick and easy setup.  When the compressor and drive are paired together, the drive delivers proactive operating envelope control, resonance avoidance and eliminates the need for a crankcase heater.  Also, the drive supports a number of communications platforms like RS485 Modbus, smartcard / SD and I/O slots for system integration. Both compressor and drive are UL 60730 approved for reduced design time, cost and speed to market.
Copeland Scroll variable speed compressors take reliability to a new level with the integration of CoreSense technology. These active protection algorithms, incorporated into the motor control drive, safeguard the compressor and drive with key features like temperature protection, locked rotor, phase protection, maximum operating current detection, discharge line temperature protection and more.
For more information, visit www.emersonclimate.com.