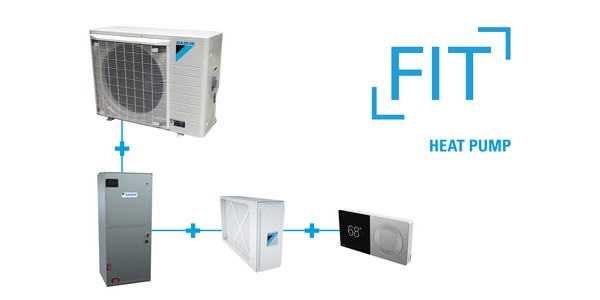 Daikin North America LLC has expanded the Daikin Fit systems to include heat pump systems.
Daikin first launched the Daikin Fit cooling-only system with gas furnace connectivity in September 2018, and now the manufacturer has expanded its product lineup to include heat pump systems for heat pump and dual-fuel applications, incorporating all the same great features and benefits provided with the original cooling only models.
These new heat pump systems meld the best features and performance of ductless-style heat pump systems with the ability to connect to traditional ducted systems. This brings homeowners the advantages of high-performing inverter compressors with cabinet designs that are smaller, lighter and quieter than traditional unitary outdoor heat pump units.
As lot sizes decrease and building envelopes grow in many urban areas, homeowners can now free up precious backyard space, while enhancing their outdoor experience with a compact, quiet Daikin Fit heat pump unit. The smaller, lighter heat pump cabinet designs provide several installation and service benefits for zero lot-line homes, condominiums and on rooftop terraces in dense urban settings that would typically require a crane. The new heat pump systems are easily installed in replacement applications using existing ductwork and existing line sets. Requiring only four inches of clearance to the home, it is ideal for locations where installation space is limited.
With cooling efficiencies up to 18 SEER and heating efficiencies up to 10 HSPF, it provides a cost-competitive system, in the mid-efficiency category, with clear design and performance advantages over traditional unitary, non-inverter systems.
Available in 1.5 to 5 ton capacities to meet most needs, it is compatible with Daikin's line of air handlers and communicating gas furnaces, with furnace efficiencies ranging from 80% to 97% AFUE and evaporator coils available with standard electronic expansion valve.
For more information, visit https://daikincomfort.com/go/daikinfit/.