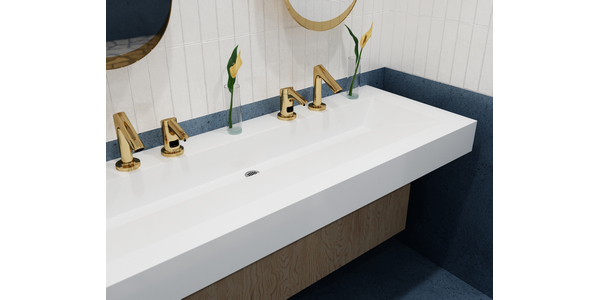 Sloan has unveiled two new faucet and soap dispenser pairings that are part of its Clark and Rush Street Collections. Its new pairings of sensor-operated faucets and soap dispensers are available in five finishes and provide hygienic, touch-free solutions.
The company's new ETF-410/EBF-415 series faucets pair with ESD-410 soap dispensers, while the ETF-420/EBF-425 series faucets pair with ESD-420 soap dispensers in the Clark and Rush Street Collections, respectively. The collections series consists of curated products across the entire restroom that share similar aesthetic qualities to enhance cohesive design. With each collection name paying homage to iconic Chicago, Illinois streets, Sloan's collections provide a complete product solution for contemporary restroom environments.
The company's Optima ETF-410 Faucet and ESD-410 Soap Dispenser deliver symmetrically designed smooth curves and defined angles that represent the aesthetics of the Clark Street Collection. Additionally, the Optima ETF-420 Faucet and ESD-420 Soap Dispenser feature the round forms and sharp angles of the Rush Street Collection.
Both the ETF-410/EBF-415 and ETF-420/EBF-425 faucets are available with 0.35 and 0.5 gpm flow rates in both battery-powered or hardwired models and are compatible with the Sloan Optima Control Box for easy installation and the Connect App for wireless monitoring and adjustments. Each soap dispenser is battery-powered and comes with two bottles of 1,500 ml soap, with GOJO refills available at 1,500 and 2,300 ml.
In addition to the finely crafted geometric forms that make each faucet and soap dispenser pairing an aesthetic match, each fixture is available in the company's wide range of special finishes to create a unified restroom experience. The physical vapor deposition special finishes include Polished Brass, Brushed Nickel, Brushed Stainless and Graphite to give architects and designers creative flexibility.
For more info, visit Sloan's website.