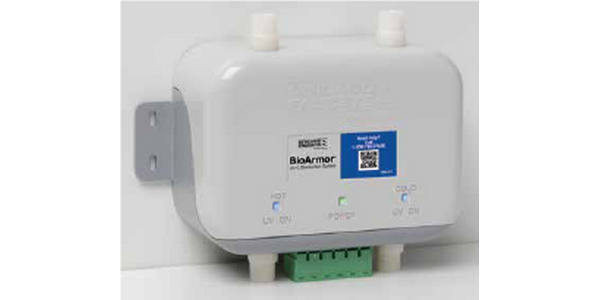 A new point-of-use water treatment system from Chicago Faucets adds a secondary defense to assist building water disinfection. Chicago Faucets BioArmor, a UV-C point-of-use water treatment system, helps reduce the number of dangerous microorganisms such as legionella in building water systems.
As part of a building's water disinfection program, BioArmor, with UV-C LED technology, provides secondary water treatment at a hand-washing sink or other dispenser. BioArmor attacks pathogens using UV-C light to penetrate cells and render them microbiologically inactive. When water flow is detected, it delivers instant full-intensity power – without heat transfer – to disinfect the water.
BioArmor can be used with any faucet. Its compact size allows it to fit easily under any sink, and plug-and-play design allows for fast, easy installation. BioArmor installs between the stop valves and the faucet with standard 3/8-inch compression inlets and outlets.
The system is designed for long-term, low-maintenance performance with a lamp life rated for 3,000 hours or up to 5 years before replacement. Two independent chambers treat hot and cold water at the same time, up to 1.5 gpm, for convenience and efficiency.
The unit has easy to see indicator lights and an error alarm that delivers ongoing, consistent monitoring. BioArmor can also be easily integrated into a building automation system. This allows users to remotely monitor errors and collect data on hot and cold water activations to help calculate UV lifespan and monitor faucet usage.
For more info, visit www.chicagofaucets.com.