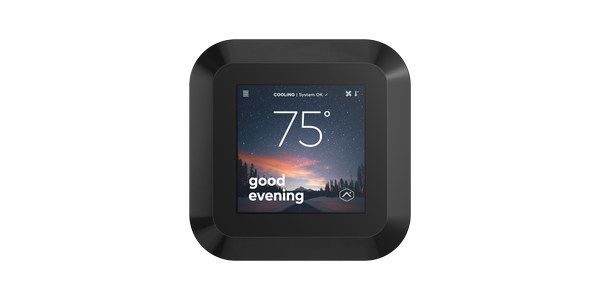 Building36 launches Smart Thermostat HD, the first near-universal 24 volt smart thermostat that can communicate wirelessly with HVAC systems, and seamlessly control air quality products and accessories such as humidifiers, dehumidifiers, ERVs, HRVs and more. With easy installation options and a rich feature set, it is the ideal solution for HVAC service providers.
The Smart Thermostat HD offers a sleek, color touch-screen display and full integration with the Alarm.com platform to optimize energy savings and convenience. For example, the Smart Thermostat HD can automatically save energy when a window is left open, and be included in a bedtime Scene that adjusts the temperature, lights and locks with a single tap in the mobile app.
Smart Thermostat HD installation is made easy with its on-screen set-up wizard and automatic wire detection and configuration. In addition, its flexible two-part design provides a labor-saving solution when there is no common-wire (C-wire), or not enough wires available. Rather than pull new wire or use an Add-A-Wire kit, the touch-screen display can be mounted in the main living area and the thermostat unit separately installed near the HVAC equipment – wireless communication does the rest.
The Smart Thermostat HD provides two dynamic ports for air quality products and accessories. Customers gain the ability to control multiple devices directly from the Smart Thermostat HD's touch-screen display, while home builders and HVAC companies avoid the costs associated with installing local controllers for these accessories.
The Smart Thermostat HD monitors the health of HVAC systems and alerts homeowners and their HVAC services provider to emerging and severe issues. This constant monitoring detects inefficiencies in new heating and cooling systems and helps prevent older systems from failing during a heat wave or a cold winter night.
The Smart Thermostat HD is entirely designed and assembled in the United States.
For more info, contact sales@building36.com.