eNews
Getting HVAC Systems in Shape for Summer
By Tim Robb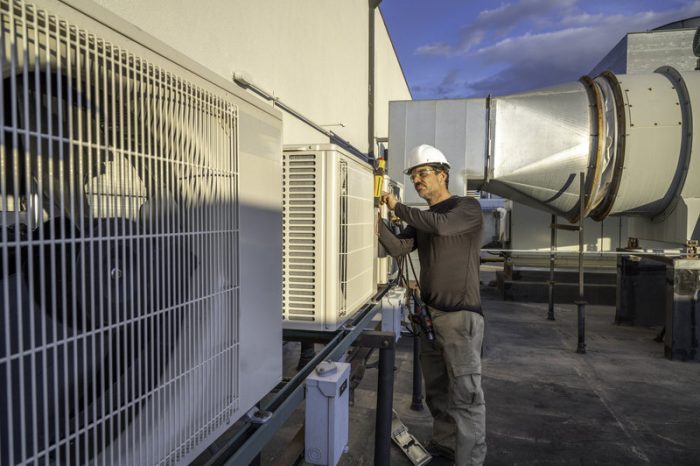 As the warmer months have arrived in some areas and are getting closer in others, it is important to remember to prepare commercial HVAC equipment for the higher temperatures. While making sure heating and cooling systems are operating efficiently all year long is critical, the summer months can put additional stress on systems that do not have a commercial HVAC Maintenance Plan.
Like any equipment, HVAC systems can become a major challenge in many ways if something malfunctions. Because they consume a considerable amount of energy, that can have a large impact on expenses. However, regular preventive maintenance can help keep HVAC systems running effectively and efficiently, which will in turn help reduce operating costs.
The following tips can help plan preventive maintenance for HVAC systems:
Develop a maintenance schedule. Having a consistent schedule and sticking to it can provide a good idea of the condition of a system.
Safety is a No. 1 priority. From making sure employees conducting the maintenance are properly trained to using the appropriate PPE, remember safety is always first. Be sure to follow the proper lockout/tagout procedures before getting started.
Perform a visual inspection. Visually inspecting and noting issues like excessive wear, rust, dirt buildups, etc., can be an excellent predictor of future maintenance needs.
Maintain an operation log to note system information. Taking note of operating pressures can help identify potential issues. Monitor data points as temperature, pressure and fluid level. Operating logs are also a helpful way to track trends, measure improvements and compare data year-over-year.
Replace and monitor condition of filters. Dirty and worn filters can force an air conditioning unit to work harder, which increases energy costs and reduces the life of the system. Make sure to match air filters to system specifications. Using incorrect filters can cause excessive pressures and reduce indoor air quality.
Check on the condition of belts and pulleys. Take some time to visually inspect belts and pulleys. If lubrication is recommended by the manufacturer, that can be done as well.
Clean condenser and evaporator coils. Dirty condenser and evaporator coils will reduce the system's efficiency and cause it to run longer, reducing the system's life. Consider using a system designed explicitly for coil cleaning. Pressure washers risk damaging delicate coil fins, potentially causing the need for repairs and spending more time and money than if you were to use equipment specifically designed to clean coils.
Clean and check the drainage lines. Condensate lines are vital pieces of healthy HVAC systems. Any type of blockage can cause severe damage to buildings and property. Consider cleaning and treating with a biocide to limit biological growth.
Check the electrical connections. Check and test electrical connections to ensure they are within tolerance and specifications.
Check operation of thermostats and other controls. Assess any thermostats or controls and replace the batteries, if applicable. Also consider upgrading to smart thermostats that allow building owners or facility managers to adjust the environment when areas are not being used.
Check for adequate airflow. Generally, this can be a quick check, but using a tool like a manometer can help you get precise measurements and make adjustments to airflow to achieve the optimal comfort level.
Check your equipment inventory. Last but not least, for contractors working on jobsites, it's important to make sure you have the appropriate equipment as not every HVAC setup is the same. There are a variety of tools to help increase effectiveness and this is an ideal time to take inventory of equipment. You can also take a look at the equipment used for cleaning and maintenance to make sure everything is operating correctly before heading into the busier months.
There are many benefits to conducting regular preventive maintenance. According to the U.S. Department of Energy, energy bills can be reduced by 30% as a result of maintenance. It also reduces the risk of equipment breakdown or repairs, which helps keep overall costs down and prolongs the life of the equipment.
Bottom line — Facility managers and HVAC contractors following these best practices will help get equipment in shape for the summer and reduce the risk of unnecessary costs down the line.
Editor's Note: Goodway Technologies a offers a downloadable maintenance checklist here.
Tim Robb is senior vice president of marketing and growth at Goodway Technologies.