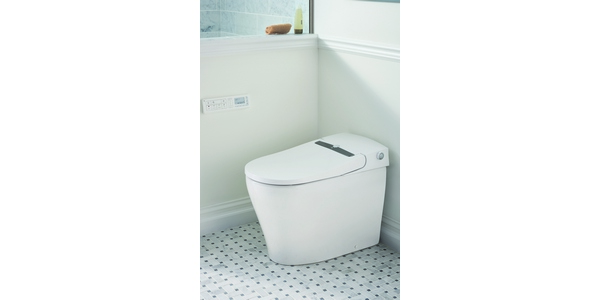 PISCATAWAY, N.J. ― Expanding its collection of innovative SpaLet bidet toilets, luxury brand DXV, part of LIXIL, introduces the AT200 LS SpaLet integrated electronic bidet toilet. Combining peerless design and flawless engineering, this elegant fixture offers new, technologically advanced features that transform the daily ritual of visiting the bathroom into a pampering and rejuvenating experience.
DXV SpaLet dual-flush bidet toilets provide a variety of completely automated, easily adjustable functions to turn the bathroom into a relaxing, life-enhancing space. Extravagant conveniences include hands-free flushing, automated lid opening and closing and seat heating for the ultimate in bathroom luxury. The state-of-the-art DXV AT200 LS SpaLet delivers the ultimate in performance and efficiency, with its completely adjustable two-nozzle water-spray system and integrated air dryer for a fresh, right-out-of-the-shower feeling.
New features of the DXV AT200 LS SpaLet include two innovative functions for odor control: the Air Shield deodorizer with a replaceable charcoal filter, and Room Refresh, which utilizes pioneering Plasmacluster ion technology to purify the air in the room after use.
To further improve hygiene, Plasmacluster technology is also used with a blue light that cleans the air inside the bowl when the lid is closed while the exclusive Hyper Clean surface preserves bowl cleanliness and prevents scratches.
Smartly styled with a full-skirted base, the dual-flush DXV AT200 LS SpaLet offers the choice of a light, .92 gallons per flush or a full, 1.32 gpf volume, and is WaterSense certified.
To learn more, visit DXV.com.